Global campaign during 10th annual National Blood Donor Week highlights need for blood
---
44,000 blood donors needed across the country by Canada Day
(OTTAWA) – Canadian Blood Services is getting ready to support patients this summer and is inviting Canadians to participate in the international Missing Type campaign from June 11 to 17.
The Missing Type campaign is taking place during National Blood Donor Week, which this year is commemorating its 10th anniversary. Throughout the week, As, Bs and Os — the letters of the main blood groups — will go missing in everyday signage and places of interest across Canada and in more than 20 participating countries around the world to encourage people to learn their blood type and give blood.
"As blood donors, we can make sure there is never a missing blood type. We need to constantly add new blood donors to have enough of each blood type on hand for patients across Canada. As we commemorate the 10th annual National Blood Donor Week, we thank donors for their vital contributions and encourage more Canadians to help save a life by donating blood."

- Rick Prinzen, chief supply chain officer and vice-president of donor relations, Canadian Blood Services
National Blood Donor Week and Missing Type will draw attention in different ways to the need for more blood donors. One in two people in Canada are eligible to donate blood, yet only one in 60 actually does.
Image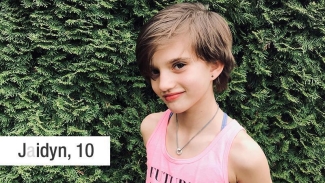 Blood donors help patients like 10-year-old Jaidyn Braithwaite recover from life-threatening conditions. Jaidyn was diagnosed with leukemia in August 2011 when she was only three and a half years old. With blood products she was able to get strong enough to continue her chemotherapy. Jaidyn finished two years of treatment in October 2013 and has been in remission for almost five years.
Prinzen says blood donations now will ensure the national supply meets demand and supports patients like Jaidyn during the summer months, when donations can traditionally be a bit softer.
How to take part in Missing Type during National Blood Donor Week, June 11 to 17
Canadians are encouraged to remove As, Bs, and Os from their social media handles and posts, from blogs and websites, and in other creative ways to draw attention to the need for more blood donors. More than 100 companies, universities and hospitals have joined the movement. It is easy to get involved in Missing Type during National Blood Donor Week using free social tools available on blood.ca/share.
The National Blood Donor Week Act was passed by the Government of Canada in 2008 to recognize and celebrate volunteer blood donors. This year marks the 10th anniversary of the legislation first sponsored by Senator Terry Mercer and supported by all parties.
On June 13, people in Ottawa can learn their blood type alongside Members of Parliament and employees of various partner groups at an outdoor, blood typing event Canadian Blood Services is hosting on Parliament Hill.
Events are being held in communities across the country during National Blood Donor Week to celebrate donors and remind people to give blood now and during the summer, one of the most challenging times for Canada's blood system. This week is also a great occasion for Canadian Blood Services to celebrate 20 years of working with donors to meet patients' needs, and to remind Canadians more blood donors are needed.
Making an appointment to help save a life has never been easier. Visit blood.ca, download our GiveBlood app or call 1-888-2-DONATE and find a nearby donation site. Walk in appointments are also available at all locations.
For more information:
Backgrounder – National Blood Donor Week
FAQs – National Blood Donor Week