Meet the Researcher: Dr. Nicolas Pineault
---
Wednesday, May 11, 2016
Jenny Ryan
This installment of Meet the Researcher appears in the Spring 2016 issue of Pulse magazine. 
Meet Dr. Nicolas Pineault, a development scientist at Canadian Blood Services' Centre for Innovation. Trained in stem cell biology at the Terry Fox Laboratory in Vancouver, Dr. Pineault worked for many years with Héma-Québec researching stem cells from cord blood, bone marrow cells and platelets. He joined Canadian Blood Services in March 2012 and works in the labs at our head office in Ottawa.
Image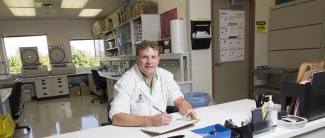 Dr. Pineault and his team are currently working on two major investigations. The first project focuses on new ways to improve blood stem cell (also called hematopoietic stem cell) transplants in patients.
Blood stem cell transplants are used to treat over 80 diseases and disorders, including many cancers and inherited immune system and metabolic disorders.
"These days, there is much excitement over stem cell research in the context of regenerative medicine because it has created new hope for the treatment of many diseases," says Dr. Pineault. "Rather than treating conditions with drugs that only alleviate symptoms, advances in so-called 'cellular therapy' can fix underlying problems at their source, providing a long-term solution that improves quality of life for patients."
Dr. Pineault and his team are working on a cellular therapy to improve engraftment (the process through which new blood-forming cells start to develop in the patient) following cord blood stem cell transplantation. The idea is to speed up normal blood cell production by transplanting a large number of stem cells from cord blood and progenitor cells (cells that are slightly more mature) in a patient at the same time.
"We are trying to create larger numbers of cells through a cellular engineering approach where we place the cord blood cells in a culture to expand them before we transplant them in the patient," explains Dr. Pineault.
The hope is that this approach could help patients recover faster and reduce the need for further interventions.
Image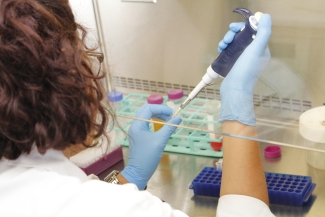 Roya Pasha extracts a fraction of red-cell-depleted cord blood. Dr. Pineault's research team located in the lab wing at Canadian Blood Services' head office in Ottawa, tests protocols and procedures for Canadian Blood Services' Cord Blood Bank. 
The second project going on in Dr. Pineault's lab focuses on developing procedures and improving standards related to the collection of cord blood units for Canadian Blood Services' Cord Blood Bank. Through the cord blood bank, we collect cord blood units to provide a national source of stem cells for all patients in need. Our Cord Blood for Research program supports promising research into new therapies to improve the outlook for patients, families and the health-care system.
Canadian Blood Services' Cord Blood for Research program supports research that promotes advances in the fields of transfusion, cellular therapies and transplantation medicine in Canada. When cord blood can't be used for treatment, it can be put to important use in biomedical research and help to make lifesaving medical discoveries.
Dr. Pineault and his team conduct tests using the same equipment we use in our cord blood processing facilities. This way his research team can perform realistic studies, such as testing and comparing processes related to the thawing of cord blood units. This work will help determine the ideal procedures for transplant centres to follow when preparing to transplant stem cells from cord blood in a patient.
Image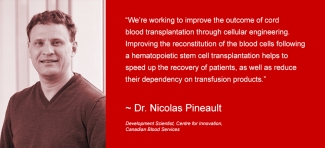 ---
Canadian Blood Services – Driving world-class innovation
Through discovery, development and applied research, Canadian Blood Services drives world-class innovation in blood transfusion, cellular therapy and transplantation—bringing clarity and insight to an increasingly complex healthcare future. Our dedicated research team and extended network of partners engage in exploratory and applied research to create new knowledge, inform and enhance best practices, contribute to the development of new services and technologies, and build capacity through training and collaboration.
The opinions reflected in this post are those of the author(s) and do not necessarily reflect the opinions of Canadian Blood Services.
Related blog posts
---
Wednesday, February 17, 2016
Jenny Ryan
Led by Dr. Sandra Ramirez, a development scientist at Canadian Blood Services' Centre for Innovation, this research project led to a new standard that will reduce the number of discarded red blood cell units. By Jenny Ryan and Patrick Walton The issue Since the 1970s, blood operators have limited...
---
Wednesday, April 06, 2016
Veronica Magee
Led by The Ottawa Hospital, a groundbreaking trial called Cellular Immunotherapy for Septic Shock is testing the idea that mesenchymal stem cells may be able to help control the body's immune system to reduce injury and promote healing, while improving its ability to fight infection.